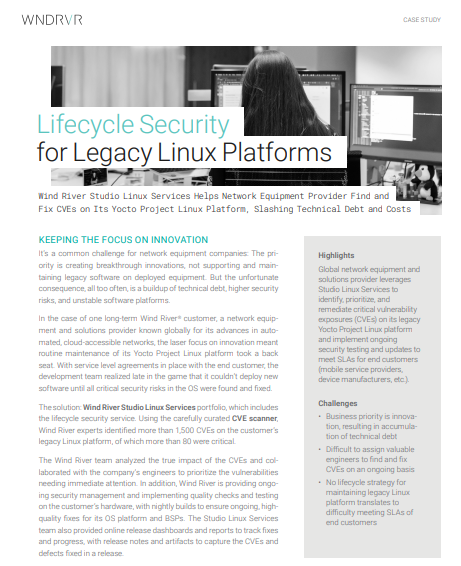 It's a common challenge for network equipment companies: The priority is creating breakthrough innovations, not supporting and maintaining legacy software on deployed equipment. But the unfortunate consequence, all too often, is a buildup of technical debt, higher security risks, and unstable software platforms.
In the case of one long-term Wind River® customer, the development team realized late in the game that it couldn't deploy new software until all critical security risks in the OS were found and fixed.
The solution: Wind River Studio Linux Services portfolio, which includes the lifecycle security service. Using the carefully curated CVE scanner, Wind River experts identified more than 1,500 CVEs on the customer's legacy Linux platform, of which more than 80 were critical.
The Outcomes:
Reduction in the cost of finding and fixing CVEs compared to using internal resources and methodologies
Ability to meet end-customer SLAs with confidence
Avoidance of ongoing accumulation of technical debt
Continued focus on innovation and time-to-market rather than software maintenance
Learn more how Studio Linux Services are a faster, smarter way to save resources and keep the focus on innovation, not CVEs.