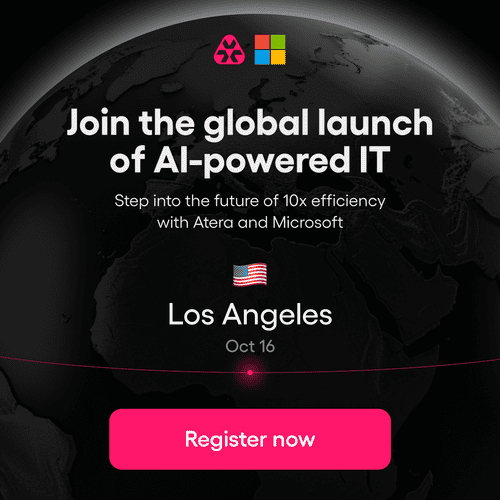 Artificial intelligence is meeting us at every turn, transforming multiple industries. Early adopters have a limited window to take the lead and reap the benefits. And yet, most IT leaders don't have a concrete AI strategy in place for 2024.
To answer that need, IT management platform Atera, trusted by over 12,000 teams across 105 countries, has partnered with Microsoft and OpenAI to launch AI-powered IT (AIT).
Join Atera and Microsoft on their world tour to learn how this cutting-edge technology will 10X your IT efficiency from end to end. On the agenda:
A panel of experts from both Atera and Microsoft
First-hand insights into Azure OpenAI
A live demo of Atera's AIT
Breakfast, networking, and more
Submit your request to attend for FREE and experience the excitement in person
October 16, 9AM PST, at Future Factory.