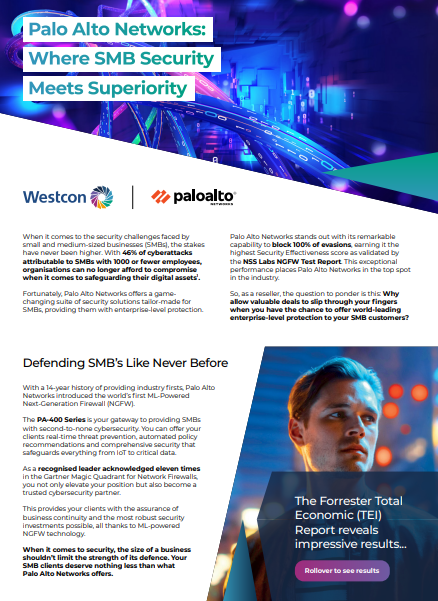 Thanks for choosing to download 'Palo Alto Networks: Where SMB Security Meets Superiority'.
Please fill in your details to download this two-pager. Learn how you can support your SMB Customers by:
Leveraging Palo Alto Networks' capability to block 100% of evasions.
Delivering predictable performance, even when using multiple Cloud-Delivered Security Services (CDSS), with Single-Pass Parallel Processing (SP3)
You will also find out how, as a Registered Palo Alto Networks partner, you can take advantage of a range of incentives, rebates and benefits. Simply by filling in an application form. Furthermore, learn how award-winning Palo Alto Networks distributor, Westcon, builds your business and ensures that your customers get the technology that they want, precisely when and how they want it.